AF4NR.COM
My Lord Jesus through the power of his Holy Spirit shared two visions with me on Saturday June 3, 2006 while in prayer. The vision was a Hurricane in motion, consisting of what seemed to be approximately 30 frames, looped twice.
I have reproduced the path and size of the wave to the best of my recollection in the near graphic. The Hurricane appeared to be a significant sized storm.
The second vision that the Lord shared with me was also of a Storm. The second vision was not as clear as the Virginia. Beach wave. It was a smaller and much faster moving storm that first skirts land near the Central Florida coast and continues up and along the Eastern Seaboard Coastline all the way up to an area near Cape Fear, NC.

The Lord shared this same vision again on Sunday, June 4th at the ending of church service. Again, this vision was not real clear or as vivid as the first vision.
I have some ideas in regards to the possible symbolism in this second vision, should this not be notice of a small, fast moving, pestering Tropical Storm or Hurricane.
Praise God!
May God Be Glorified!
In Jesus Name,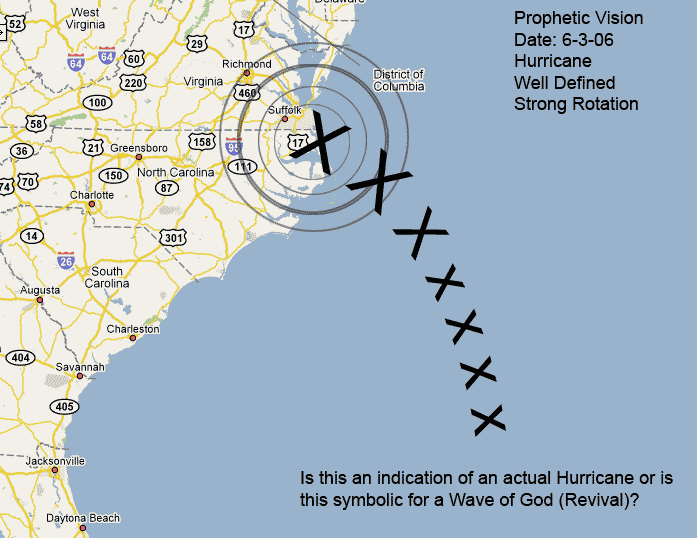 Acts 4:12 (Contemporary English Version)
Only Jesus has the power to save! His name is the only one in all the world that can save anyone.
2006 Atlantic Hurricane Names
Alberto
Beryl
Chris
Debby
Ernesto
Florence
Gordon
Helene
Isaac
Joyce
Kirk
Leslie
Michael
Nadine
Oscar
Patty
Rafael
Sandy
Tony
Valerie
William